The Purchase email account is accessed through Microsoft Outlook, which, aside from being unattractive, is a bad system because on certain browsers you have no choice but to open the emails received, even when you know you want to delete them. I don't know if computer viruses still exist but I've heard arguements that this could make you susceptible to digitally transmitted disease.
The Purchase email account had some sort of system that would identify spam emails by adding *SPAM* to the subject line but not delete them or hide them in any way. Sometimes they were wrong and it would be an email from Sam from the Windish Agency and I would respond and he'd think that I considered him spam. Quite the opposite, Sam from the Windish Agency!
When I was at school I sent a lot of mass text messages [roughly 6x the amount I sent over the summer]. On weekend afternoons they were about going to the dining hall with 5+ people and on Thursday nights they were advertising Cheese Club. Sometimes I would have a show that I organized in the city and I would mass txt ppl for that. A grouchy girl was on my mass txt mailing list and one day she wrote back, "Girl can I not get your spam? Thx!"
I took this as an insult. "W/e," I texted back.
"Whatever," she wrote back, which isn't better than "W/e," so I basically won that one.
After that I started beginning my mass txt messages: *SPAM*
I'm glad Gmail has been hiding these from me. A lot of them have exciting subject lines or intriguing senders, even though they're all viruses and human traffickers and identity thieves.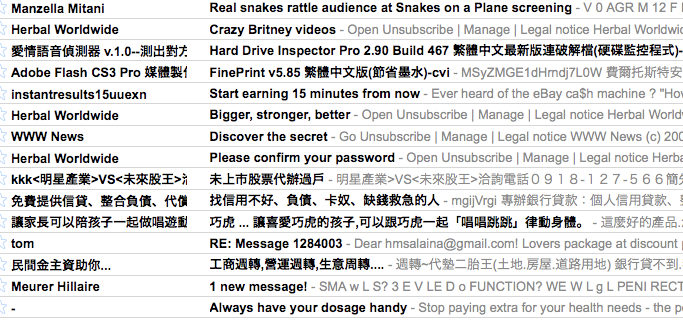 The Mountain Goats -- The Sign [cover]